Chiropractic Care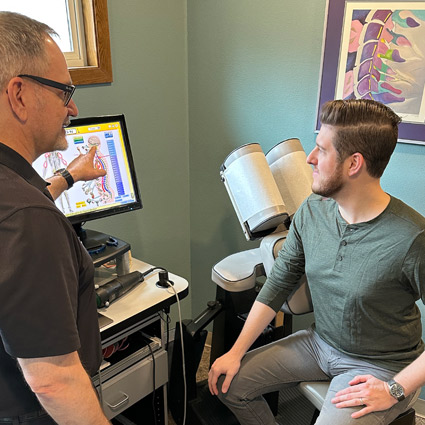 Proper alignment of your spine and communication within your nervous system is critical in making sure your body as an interconnected organism is able to heal and thrive. Watertown chiropractor Dr. Stramara knows this fact, and he has an amazing device that can significantly reduce your pain and improve your life long-term.
All our patients at ProAdjuster Chiropractic Clinic start with a holistic examination, including health history, to catch issues that many others who focus just on pain or symptoms may miss. Most are then led to a chiropractic plan that includes adjustments from the ProAdjuster, a computer-assisted tool with many benefits.
As a technological instrument, the ProAdjuster can analyze and measure the alignment of the spine, plus deliver gentle and pain-free adjustments. The tool's analysis of the musculoskeletal system makes it easy for both patient and doctor to view on a computer screen the spine's current placement and track any progress made from previous visits.
NEW PATIENTS

The adjustments themselves are a precise and controlled way to correct imbalances and misalignments, allowing the nervous system to function at a much higher level without cracking joints or manually manipulating the spine.
Common Pain Points
Each patient's case is different, and we are careful to tailor our care specifically to you. But in general, there are some recurring injuries and pains that we see and care for using the ProAdjuster:
Low back pain
Hip and sciatica issues
We also deal with pain in people's feet and knees. These areas are often sources of great discomfort, but are not thought of as areas that can be helped by chiropractic adjustment. We want to change that. We want to help you achieve health throughout your entire body!
Schedule Now
If you are feeling any of the above symptoms, please contact us to start your journey to a comprehensive improvement in your health. Schedule your first visit now.
CONTACT US
---
Chiropractic Care | (920) 261-5784